Hydration Bladders are an amazing thing to have with you when you participate in any long-duration outdoor activities. If you're an avid hiker, camper, or just like to get our and explore the world, a
hydration bladder can make sure that you're well hydrated and ready for adventure
. Similar in appearance to a backpack, hydration bladders come in a variety of sizes, each able to carry a certain amount of water. Attached to the pack is a tube, like a very large straw, which is how you drink easily from your pack.
Most are designed to carry about 1L – 3L of water
, ensuring that the weight of the pack never get's too heavy. They use lightweight materials to construct the best hydration bladders, meaning you can carry it for long distances without tiring.
Our
Overall Best Pick
ended up being the
Camelbak Antidote Reservoir
. With its lightweight and durable design, this is a hydration bladder that can accompany you on whatever adventure you take. Spacious and durable, it offers a low profile and simple to use system. It can easily be attached to a variety of other products, such as filters and meters, allowing you to get the most out of your hydration bladder.
Check Latest Price on Amazon
Our
Budget Pick
would have to be the
Aquatic Way Hydration Bladder
which offers a variety of sizing options for whatever pack you may have or purchase. With it's large, easy opening and anti-bacterial properties, this is a hydration bladder that is simple to use and overall very durable.
Check Latest Price on Amazon
Quick Comparison: Top 10 Best Hydration Bladders
All hydration bladders have the same basic purpose, to hold water that can be easily transported; but there can be a lot of small differences between each brand and model. Some are very small in size, while others can be a lot larger with a bigger water reservoir. There are some that are pressurized, while others simply rely on a suck motion to withdraw water. There are packs that only fit a water reservoir, and others that are designed to carry other equipment as well, give you a space to put extra clothes, camping gear, snacks, or whatever else you may need. We will look at the top 10 best water bladders on the market right now, and break down the differences that make them unique. [table id=45 /]
1. Camelbak Antidote Reservoir
Check Latest Price on Amazon
The first one on our list is a reservoir tank, and it's important to note that this is not the backpack. Inside each backpack is a waterproof tank that the water is stored in, and the Camelbak Antidote Reservoir can be put inside a pack in order to carry it. This one
holds 100oz, or around 3L of water
and is compatible with any Camelbak hydration pack.
Designed to be as lightweight as possible
, this hydration reservoir is also extremely durable and that is backed by their
lifetime manufactures warranty
. The quick snap cap only requires a quarter turn to open and close it, and it provides a large opening that makes it quick to fill. The simplicity of the quick snap cap is designed in a way that helps securely seal off the opening preventing any leakage from occurring. What makes the Antidote Reservoir stand out, is that it has a
design that allows for attachment features
such as a filter or a flow meter, giving you more versatility while in use. This is supported with its quick link attachment system, which allows linkable attachments to connect easily and without hassle. The threaded items fit snugly in to the attachment port, so that they remain secure and in good working order during use.
PROS
100oz/3L Capacity
Quick Link Attachment System
Quick Snap Cap
Low Profile
Integrated Dryer Arms
Easy Loading and Unloading
Lifetime Manufacturers Warranty
Weighs only 195g
100% BPS and BPA Free
CONS
No Backpack Included
Water May Still Have Plastic Taste
May Leak Over Time
Check Latest Price on Amazon
2. ​Geigerrig Pressurized Hydration Engine and Reservoir
Check Latest Price on Amazon
If you pack your water for more than just drinking, opting for a pressurized hydration pack may be beneficial to you. Instead of sucking out water, these
pressurized models will allow you to spray water from the hose;
perfect for cleaning of dishes or spraying yourself to cool down. Geigerrig offers a fully pressurized reservoir that can hold
100oz, or 3L of water
, and is equipped with a slit top to making filling simple. To add pressure, just squeeze on the pressure bulb, and within moments you can easily spray the water where needed. With the
option to attach a filter
, the Geigerrig Pressurized Hydration Engine and Reservoir can provide cool, safe drinking water wherever you may be. Once you are done using the reservoir, all you have to do is flip it inside out and you can then
pop it in the dishwasher for easy clean up
.
PROS
​Pressurized
Can Attach a Filter
Dishwasher Safe
Easy to Use Pressure Bulb
100oz/3L Capacity
Wide Slip Top for Easy Fill
Lifetime Warranty
Fits All Larger Hydration Packs
CONS
Must Be Pressurized Before Each Use
slight plastic after taste
feeding tube is not insulated
backpack not included
Check Latest Price on Amazon
3. ​Miracol Hydration Backpack
Check Latest Price on Amazon
If you're looking for the complete package, pack and reservoir, than the Miracol Hydration Backpack may be worth checking out. This includes the pack itself, plus a 2L reservoir specifically designed to fit inside. I know that when I want a glass of water, I like that water to be cold; who wants to refresh themselves with a warm drink? What makes the Miracol Hydration Backpack a great option is the fact that both the reservoir and the tube are insulated, allowing the water to stay cold for longer. When combined, the pack and reservoir only weigh a total of 1lb, meaning you won't have to strain your shoulders and back while carrying it. It's made with military grade durability, so your lightweight pack will last, no matter how rugged the conditions may be. Besides having space for the reservoir, this backpack also features additional storage pockets, so that you have somewhere to secure your valuables and other necessities. The added storage means you can pack more with out taking up any more space on your body.
PROS
​Adjustable Shoulder Straps
BPA Free Reservoir
Includes both Backpack and Reservoir
Insulated
2L Capacity
100% Money Back Guarantee
Multiple Color Options
Only 1lb of Weight
CONS
Reservoir is Delicate
May be Small for Larger Individuals
Mouthpiece May Leak
Additional Pockets are Small
Check Latest Price on Amazon
4. ​Hydration Bladder & Insulated Sleeve - by Crystal Creek
Check Latest Price on Amazon
Another one on our list for those who are just wanting a reservoir, this option by Crystal Creek has a
3L capacity
that is both easy to fill and easy to clean.
Dishwasher safe
, you can clean this quickly and effectively, making sure it's always ready to accompany you on an adventure.
Completely BPA free,
this reservoir aims
to erase that plastic aftertase
that some bladders may have, and it takes away the plastic smell as well. In addition to the bladder itself,
you also get an insulated bag
that covers it, helping to ensure you water stays cold no matter how long you're on the go for. The bladder and hose are also insulated, keeping you water cold in even the hottest of climates. All
seams are double reinforced
to help prevent any breakage or leaking. There is a
leak proof guarantee
, so if you have any issue you can contact them and have it replaced hassle free. With the
100% money back guarantee
, you can be more assured that you will be getting what you pay for with this hydration bladder.
PROS
​​​​​3L Capacity
Included Insulated Sleeve
Dishwasher Safe
Double Reinforced Seams
Leak Proof Guarantee
Large Opening for Easy Fill
Dust Cap on Drinking Valve
CONS
backpack not included
condensation can form on sleeve
hose size may not fit with other filter systems
Check Latest Price on Amazon
5. ​Aquatic Way Hydration Bladder Water Reservoir
Check Latest Price on Amazon
If you're a fan of finding a specific brand that offers a variety of options, then look no further than the Aquatic Way Hydration Bladder. The
multi-size options
and colors means you can find the right fit for you all in one place, and you can purchase multiple sizes for multiple occasions. Aquatic Way is committed to ensuring that your water neither leaks nor tastes bad, so they offer a
full money back guarantee
if you're not completely satisfied with this bladder. This also means they've used
high quality materials
to help make sure their product is both durable and functional. This bladder is thick in order to ensure that it does not tear or get holes when you're using it; and its
BPA free
for safety and taste. The materials are also
antibacterial
, which is essential when using a product that is frequently damp and contains excess moisture. No one wants their water coming out of a moldy bag, so this feature is beneficial. To help prevent any leaking or dripping, Aquatic Way has added a
shut off valve
to keep the water where it is supposed to be. There is also an
extra large opening
to help you fill it easily, and even add ice if you're inclined.
PROS
Multiple Capacity Options
BPA Free
Antibacterial Materials
Insulated Extra Long Drinking Tube
Large Opening for Filling
Shut Off Valve
Quick Release Tube
Soft and Durable Mouthpiece
CONS
​m​​​​​ay still have a plastic taste
shut off valve can make drinking difficult
will leak if tilted
hose may be difficult to connect
water may not flow easily
Check Latest Price on Amazon
6. ​SportsTrail Hydration Pack Water Bladder
Check Latest Price on Amazon
Put to the test, this water bladder has gone through
numerous controlled studies
in order to ensure that it is both durable and long lasting. After a 24 hour swing test, as well as a 24 hour vibration test, it claims to be
fully leak-proof and pressure tolerant
. These are both important qualities to look for during purchasing, as of you are looking for this to use during physical activity. The last thing we want is to have the water leak out and leave us thirsty after some hard work. In order to fill this
2L reservoir
, there is a 4 inch screw cap that is large enough to allow you to fill this pack quickly and easily. This size is also large enough to fit ice cubes, giving you the option of keeping your water icy cold longer. The
quick release tube
is designed in a way that allows you to quickly release the tube from the hydration bladder, and in doing so engages an
auto lock system
to help prevent any leakage. The mouthpiece is soft and durable, requiring the user to bite down in order to get the water to start flowing freely. Once you've had your fill, use the east turn shut off valve to stop the flow and continue on leak free.
PROS
free cleaning kit included
drying supporters
bpa free
large opening
2l capacity
auto lock system
CONS
backpack not included
bite tube takes time before flowing
cover can be hard to use
Check Latest Price on Amazon
7. Hydrapak Shape-Shift Reservoir
Check Latest Price on Amazon
If you already own a backpack and you want a reservoir that can easily fit, then the Hydrapak Shape-Shift Reservoir may meet your needs. This hydration bladder is designed to adapt to whichever backpack it is placed in, so you don't need to stress about sizing or dimensions. Both the
tube and the reservoir are highly flexible
, allowing them to be manipulated in any way you need. The design is meant to keep a low profile, so you don't have to have a bulging and heavy pack. The surge valve is meant to allow water to flow easily, but includes a
twist shut off
so that you can maintain a leak free environment. Simply bite down to get the water moving, and then easily twist when you want to make sure it stops. Using a
rare magnetic fastener
, the tube is securely attached and will not disengage until you're ready for it to. When you do want to remove the tube, their simple tube removal system is made so that it can be taken off and the water will remain inside the reservoir without leaking. Once you are all done with the Hydrapak Shape-Shift Reservoir, simply turn in inside out for easy and hassle free cleaning.
PROS
3l capacity
flexible bladder and hose
adaptable for multiple backpacks
s​​​​​urge valve
quantum clip
easy tube removal
CONS
backpack not included
internal linkage may struggle under pressure
mouthpiece can crack under a lot of use
Check Latest Price on Amazon
Check Latest Price on Amazon
Although this option is again one that comes without a backpack, the design is intended to fit in whatever pack you may already own or are planning to purchase.
BPA, BPS, and phthalate free
, you can feel comfortable knowing that there will be no chemicals leaking in and affecting your water quality, taste, or smell. In order to make this hydration bladder free from mold and bacteria, Platypus has
embedded the bladder with silver ions
that works to prevent any build up. This bladder is also built using
a food grade liner
, which is both safe and durable. Coupled with the rugged exterior, this bladder may be a good choice if you are extremely active and tend to frequent more rugged environments.
Sizing ranges from 1L – 3L
, so there are options no matter how much water you are needing for your trek. The attached
hydration hose includes a clip
, letting you secure it to your shirt for easy access on the go.
PROS
multiple sizes for different packs
silver ion protection
bpa, bps, phthalate free
food grade linder
hydration hose clip
simply air dry
easy to clean
CONS
may leak
may not fit other hoses
may not attach to certain filter systems
Check Latest Price on Amazon
9. ​Osprey Hydraulics Reservoir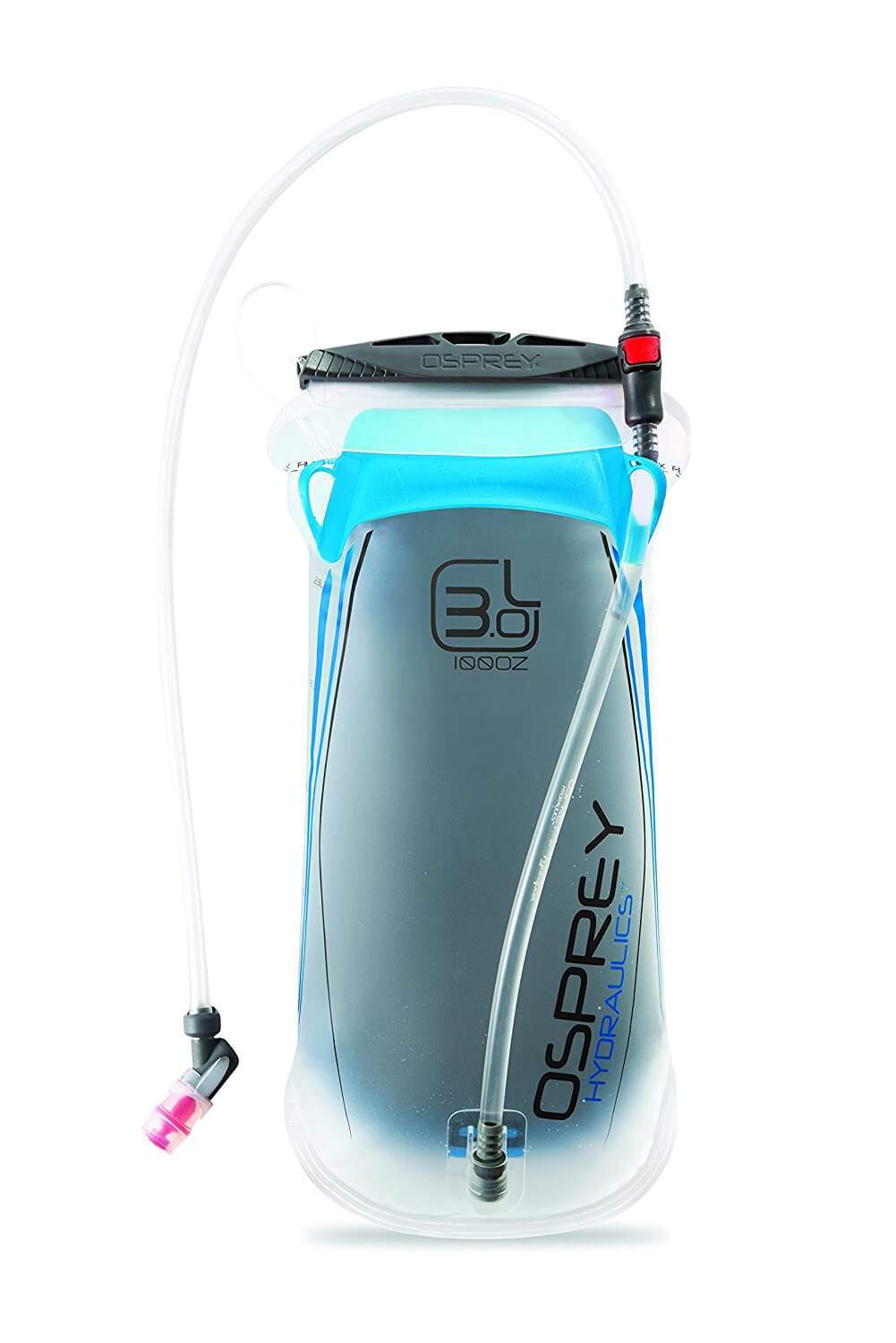 Check Latest Price on Amazon
With both a
2L option and a 3L option
, this reservoir will fit in to a variety of packs, so you don't need to stress about finding something compatible. This hydration bladder is also built with a
hydrostatic backer plate
, which is used to uphold the bags structure and allows it to fit in to a pack while still maintaining it's flat profile. For ease of filling, and to keep this bladder leak proof, Osprey uses a
slide seal
along the top. This means the bag can open fully, for water and even ice, and then it is folded over and sealed.
The seal is watertight
, and you can turn the bag upside down to ensure that there is no leakage. An added feature of the Osprey Hydraulics Reservoir is that it has a
pour shield
. This is to help you fill it up when you are in a shallower environment, and it also can fold to help you pour waster easily in to pots or bottles. So that you don't have to struggle with your hose while active, this hydration bladder is equipped with a
magnetic bite valve
, which helps to secure the hose to a sternum strap. This means you will always be able to have easy access to your hose and can place it back in it's spot without stopping.
PROS
​2​​​​​l and 3l options
hydrostatic backer plater
slide seal
wide fill opening
pour shield
carry handle
magnetic bite valve
CONS
some may still have leakage
flow rate can be slow
can have plastic taste
plastic pieces are delicate
Check Latest Price on Amazon
10. ​Source Outdoor Widepac Hydration System Reservoir with Helix Bite Valve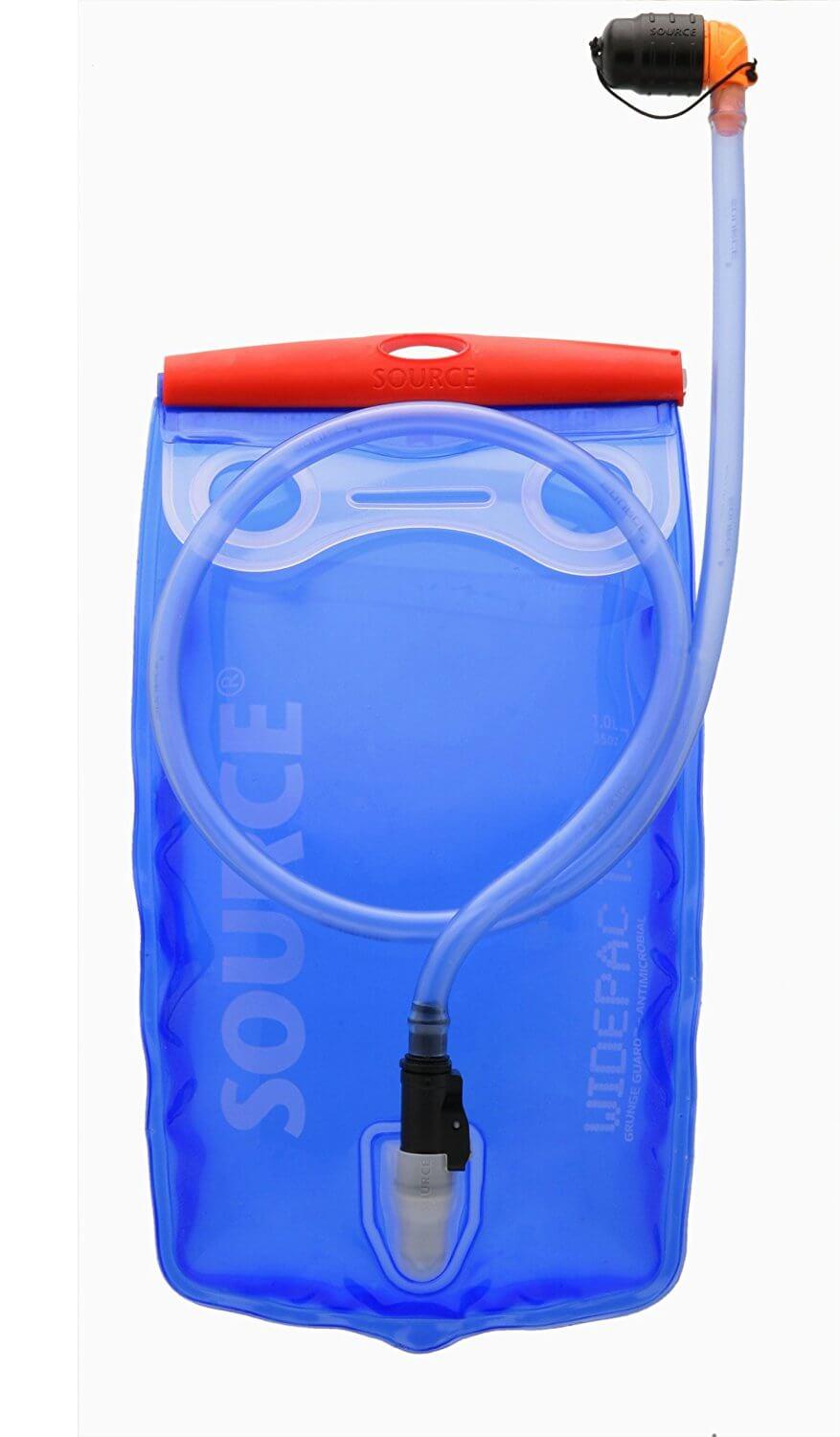 Check Latest Price on Amazon
Using a glass like liner
, this hydration bladder is designed to prevent any type of build up from moisture and bacteria inside the system. It uses
Grunge Guard Technology
that fully inhibits the growth of any bacteria, and allows you the ease of mind knowing that your water is not contaminated in any way. In 3 sizes, you can opt for
1.5L, 2.L, or 3L capacity choices
, making this a good fit for a variety of pack sizes. Each size is equipped with a wide opening which is great for quick filling and the addition of ice in to the reservoir. The tube on this system is also shorter than other options, which gives you a
quicker flow when drinking
.  The way it is angled around your body is meant to avoid any kinks or water hold ups while in use. The
rounded helix bite
is both soft and simple to use, requiring little force to get the water to flow out. It also includes a built in safety mechanism that will shut off the water when needed, helping to keep it leak free.
PROS
airtight slide closure
multiple liter options
fully flexible
wide opening
grunge guard technology
glass like liner
rounded helix bite
CONS
not low profile
may not suspend well
interior may leave sticky residue
some may find plastic taste
Check Latest Price on Amazon
How To Keep Your Hydration Bladder Cold?
One common question that is often asked is how do you keep the water in your hydration bladder cold. When you're exercising or active in some way, there is nothing nicer than a cold drink of water to refresh you. But if you're active for long periods of time, or in a hot and humid environment, how do you prevent your bladder for getting warm? One thing to look for is hydration bladders that are
insulated.
Insulated options will keep your water colder for longer, so if this is an important aspect for you then make sure the one you purchase fits this criterion. Not only do you want the reservoir itself insulated, but making sure the tube is also insulated will help ensure that your first few sips aren't warm. Another thing to look for is hydration bladders with
wide openings
, which will allow you to add ice before heading out. It's important to note that this can increase condensation on the exterior of the bag, so make sure that you don't keep things like your phone or other electronics in the same pocket as your reservoir. One more trick to consider is
freezing or chilling you pack overnight
before use. If you are going to freeze it, you want to make sure the material is durable so that it doesn't cause any breaks or tears during the process. It will also be important to remember that ice takes time to defrost, so if you think you may need water right away, you may want to pack and extra bottle of unfrozen water so that you have that option while you wait.
How Do You Clean Your Hydration Bladder?
​
When you're dealing with a product that is moist and damp, one of the important things to remember is that this is the ideal environment for both mold and bacteria to grow in. If you have any kind of growth, this can be harmful to your health and it will taint the water that you add in. To prevent any kind of build up, it is important that you both
clean and dry your hydration bladder regularly
. Some models are dishwasher friendly, meaning you can flip them inside out and put them in with your dishes. Not all models are able to be cleaned this way though, so proper care needs to be taken after each use. Make sure you
frequently rinse your hydration bladder
, and thoroughly run water through the entire system. Then,
hang your bladder to dry
somewhere that is clean and arid. Never put your hydration bladder in to storage or a drawer before it is fully dry, otherwise you will end up with growth over time. Many models are
designed to be antibacterial
, and this is a great feature if you want to be certain that your water stays fresh and bacteria free. These surfaces are very handy, but they don't negate the need for proper washing and drying. Even with an antibacterial surface, over time, you can end up with growth if you are regularly storing it while wet. If you want to clean it using soap, or another cleaner,
make sure that you're using something non-toxic
. As this is a water reservoir, you never want to contaminate the environment with toxic chemicals, which could be absorbed in to the water and then in to your body.
Important Features to Consider Before Purchasing
Reservoirs with or Without Backpacks
If this is your first time purchasing a hydration bladder, you may want to look at models that come with
both the reservoir as well as the pack
. Ensuring that different sizes match up and are compatible can be confusing for a new person, so combination purchases will take some of the burden off of you. For those who already own a pack, and just want a bladder to replace either the old one, or for a different size,
make sure that the hydration bladder you purchase is fully compatible.
If you have a very small pack, a 3L reservoir may not fit and that would render it a useless purchase.
Check the dimension
s of both you pack and the reservoir to ensure that it will fit with ease and can stay upright so that it prevents any leakage. Whether you already own a backpack or not, it is good to note that most of the hydration bladders on the market right now are designed in a way that makes them flexible and more compatible with a variety of other products. Make sure you read through descriptions and reviews though to be sure, and once you are, you can pick and choose between different brands and models that suit your needs. Different packs and different bladders all have unique features, so having the option of buying from varying brands means you're more likely to create the overall hydration pack that suits your needs.  This is also true when it comes to accessories, as there are many add-ons available on the market to pick and choose from.  
Size Capacities
A runner is going to require a different sized back than a prolonged hiker, just as a bike rider will need something different than camper.
Figure out what purpose your hydration bladder is going to be serving, and then base your size choice around that
. If you are only going short distances, you will not need as much water, so a smaller sized reservoir may be a better fit. Likewise, if you are a runner you want an option that is extremely lightweight so that you aren't slowed by it, so the lower the capacity the lighter the weight. For those who do overnight hikes, or longer, a small reservoir means limited water, so you may want to opt for one of the larger 3L hydration bladders. You may also want to consider options with either built in or attachment filters, so that you can refill your bladder from streams or other water sources as your travel. These types of
attachments add weight
, so make sure that you are prepared for an increase in size when using it, as you will want to consider the other gear you also have. Not only do the reservoirs vary in size, but so do the packs themselves, and this is another feature to consider. If you are already lugging a camping or hiking pack, an additional large sized hydration backpack may not be the right choice for you. AS mentioned in regards to runners, anything bulky can be both distracting and difficult while trying to go for speed and distance, so smaller sized backpacks are great choices. If you have a lot of small things you are brining with you for say a daytime hike, or while heading to a campground, a large backpack will give you a
dditional space to store smaller items
like your wallet, phone, and keys. Some even can have enough space for a change of clothes and a towel, so if you just want a water bladder for a beach day a large backpack can make everything simple and contained.
Final Verdict
​
Whether you're seeking a hydration pack with a reservoir, or simply a new hydration bladder, there are many options currently available on the market. The best hydration bladders will always be the ones that meet your specific needs, and ensure that you stay fully hydrated no matter the adventure you're on.
Featured Image Legacy
https://wirevibes.com/wp-content/uploads/2017/10/Best-Hydration-Bladders.png