Yogurt has been a staple of lunch bags for years. There is a flavor for every taste, and it is good for you, too! It aids in weight loss, boosts immunity, improves the health of your teeth, gives your body energy, it's full of vitamins and minerals, and it contains the proteins needed to strengthen bones. But one of its most important benefits is what it does for your gut. The probiotics in yogurt help keep a healthy balance of the bacteria in your digestive system. Lactobacillus casei, Bifidus, and Lactobacillus acidophilus are some of the most common probiotics added to yogurt to help keep the balance of bacteria in the gut in its best shape. Lactobacillus casei helps keep you regular and can help prevent GI upset and symptoms like diarrhea. It's also possible that it can assist in things like irritable bowel syndrome (IBS), inflammatory bowel disease (IBD), and even Crohn's disease. Bifidus, or as the brand Dannon has trademarked it Bifidus regularis, can aid in weight loss, improves your immune system, and lower blood sugar and cholesterol. The last probiotic on the list, Lactobacillus acidophilus, is much like the other two probiotics in that it can help with irritable bowel syndrome (IBS), diarrhea, and reducing cholesterol. On top of that, it may also help with or even prevent cold symptoms in children. If you are concerned about your gut health and searching for the best probiotic yogurt out there or want to continue to keep your gut working at its best, we've got you covered. Below are the best probiotic yogurts for better gut health currently on the shelves.
1. Fage Greek Yogurt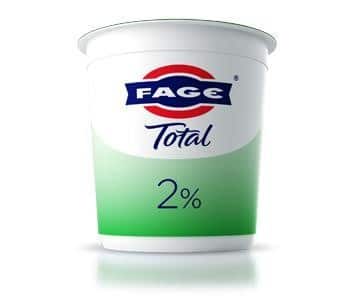 Fage translated from Greek means "to eat". This is
a low-fat Greek yogurt
that originated in Athens Greece in 1926. Since then, the brand has gained popularity in Europe and most recently in North America. Fage boasts no GMO's, artificial flavors, or growth hormones. Their 200-gram containers are 140 calories, 4 grams of fat, 6 grams of sugar, and 20 grams of protein. Greek yogurt is also gluten-free and vegetarian.
2. Activia Lemon and Real Ginger Yogurt Drink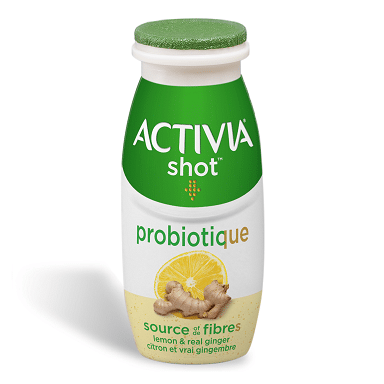 If you've ever looked for a little gut health pick-me-u, but are too busy to sit and eat a pot of yogurt, Activia has you covered. Its
Lemon and Real Ginger Shots
pack one billion probiotics in each container and over 109 CFU of Bifidobacterium lactis that helps your gut flora. The shots are also 60 calories, 1.5 grams of fat, 6 grams of sugar, 3 grams of protein, and 125 grams each of potassium and calcium.
3. Siggi's Icelandic Skyr Yogurt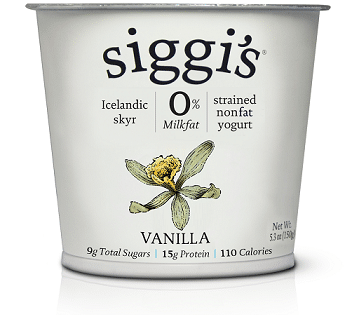 Siggi's Skyr yogurt
was created in 2005 by Siggi Hilmarsson. Skyr is a creamy, thick yogurt that is high in protein and comes from Iceland. It contains 110 calories, 0 grams of fat, 9 grams of sugar, and 15 grams of protein. It also contains active cultures B. lactis, L. delbrueckii subsp. lactis, L. delbrueckii subsp. bulgaricus, S. thermophilus, and L. acidophilus.
4. Chobani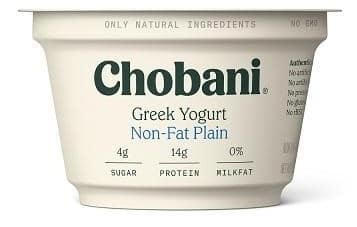 Chobani was founded by Hamdi Ulukaya and is all about trying to better the planet. It shares all the ways it is working towards being more environmentally friendly on its website. It also discusses the importance of inclusivity and diversity in the world and in the Chobani company. Their 5.3 Ounce
non-fat Greek yogurt
is 80 calories, 0 grams of milk fat, 4 grams of sugar, and 14 grams of protein. It contains probiotic cultures L. Casei, L. Bulgaricus, L. Acidophilus, Bifidus, and S. Thermophilus.
5. Liberté Classique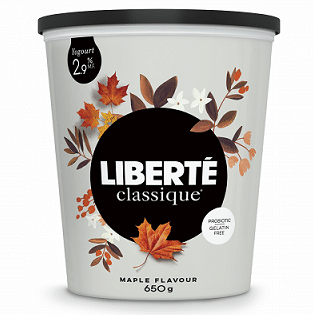 Liberté Classique
was created by the Kaporovsky family in Montreal in 1936. The company website states that it was inspired by the Statue of Liberty. The company supplied the troops in World War Two and even participated in the 1967 World's Fair. The 650 gram container is 150 calories per 3/4 cup (175g), 2.9% milkfats, 20 grams of sugar, and 8 grams of protein. Liberté Classique contains Bifidobacterium lactis, Lactobacillus acidophilus, and Lactobacillus casei.
6. Astro Kefir Probiotic Yogourt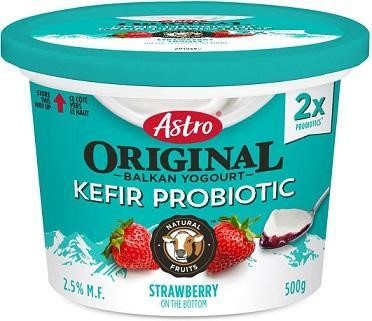 Astro has been making Balkan style yogurt and kefir yogurt in Canada for over 30 years. Balkan Yogurt is thicker than Greek yogurt, higher in fat, and lower in protein.
Astro's strawberry kefir yogurt
is 150 calories per ¾ cup (175g), 4 grams of fat, 19 grams of sugar, and 6 grams of protein. Astro kefir yogurt has Lactobacillus acidophilus and Bifidobacterium lactis probiotics.
7. iÖGO Probio Immuni-T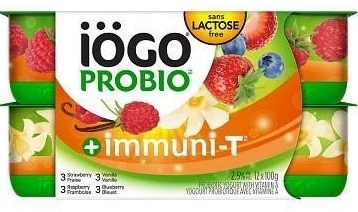 iÖGO is a Canadian yogurt brand owned by Ultima foods that also owns the Olympic brand organic yogurt. The company began in the 1980s and first acquired Olympic Dairy in 2004. It created iÖGO in 2012. 
iÖGO Probio Immuni-T
100 gram pots are 80 calories with 2.5 grams of fat, 10 grams of sugar, and 3 grams of protein.
8. Organic Meadow Whole Milk Greek Yogurt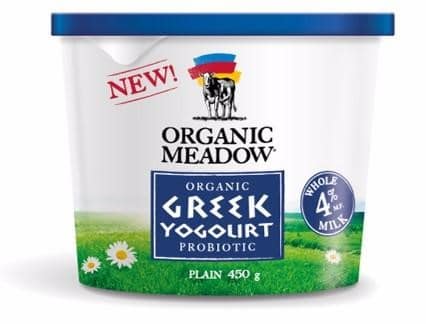 Organic Meadow is an organic yogurt company that was created over 25 years ago in Canada. It prides itself on being non-GMO and the high quality of its "organic" cows that it only feeds grass. The
Organic Meadow Whole Milk Greek Yogurts
have only two ingredients: organic partly skimmed milk, active bacterial cultures. The 450 g container of Organic Meadow Whole Milk Greek Yogurt has 170 calories Per ¾ cup (175 g), 7 grams of fat, 5 grams of sugar, and 19 grams of protein. Organic Meadows Whole Milk Greek Yogurt contains 1 billion probiotic bacteria per serving as well.
9. noosa Yogurt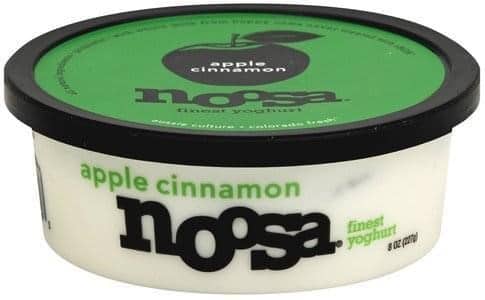 The noosa recipe was founded in Noosa, Australia by co-founder Koel Thomae in 2007. She then took her discovery back to America with her. In Colorado, she partnered with dairy farmer Rob Graves to create the brand and introduce the little known Australian secret to the world. An 8-ounce tub of
apple cinnamon noosa yogurt
has 280 calories, 11 grams of fat, 34 grams of sugar, and 11 grams of protein. It also contains live active cultures S. Thermophilus, L. Bulgaricus, L. Acidophilus, Bifidus, and L. Casei.
Featured Image Legacy
https://wirevibes.com/wp-content/uploads/2020/11/Best-Probiotic-Yogurt-Brand.jpg