Gas leaks can pose a great threat Gas leaks can pose a big threat to human life and property.  Since most of these gases cannot be sniffed, seen or detected, it becomes hard to detect them without the help of a gas detector. However, while a gas leak detector will help you know when there is any leakage, not all of these devices can detect all gases. This means you should be keen on the type of detector you invest in. we care much about your safety, and we have taken a step further by selecting the best gas leak detectors to help you make wise decisions. Besides, you will also get a comprehensive shopping guide and what you should factor when buying your detector.
Best Pick
Kidde KN-COEG-3 Nighthawk Plug-In Carbon Monoxide and Explosive Gas Alarm is reliable, durable and comes with a battery backup making it our best pick.
​Budget Pick
Alopex Natural Gas Detector/Home Gas Leak Alarm/Tester Sensor Combustible Gases is affordable, accurate, and power saving making it our best budget pick.
Quick Comparison Between The Best Gas Leak Detectors 
[table id=107 /]
1. ​Kidde Nighthawk Plug-in Carbon Monoxide & Explosive Gas Alarm
Highlighted Features
This 1.2 pounds gas detector from Kidde helps you detect explosive and carbon monoxide gases. The device
boasts of two detectors which run at the same time
to ensure any leakages have been detected as soon as possible. One of the sensors is
dedicated to detecting carbon monoxide and the other senses explosive gases.
In case of any leaks, the device through its sounder alarm notifies you immediately. The alarm
features an 85-decibel pulsing alarm
which is convenient and great for detecting gases. Through its digital display, you can read the gas leakage levels. And with a push of the peak button, you will be able to read the CO peak levels from when the detector was reset. Kidde KN-COEG-3 detector also
comes with 9 volts back up battery
to avoid any surprises. Installing the device is easy, thanks to its three mounting options which makes the process convenient and easy.
2. Youthful naturel Propane / Methane /Combustible Natural Gas Alarm Detector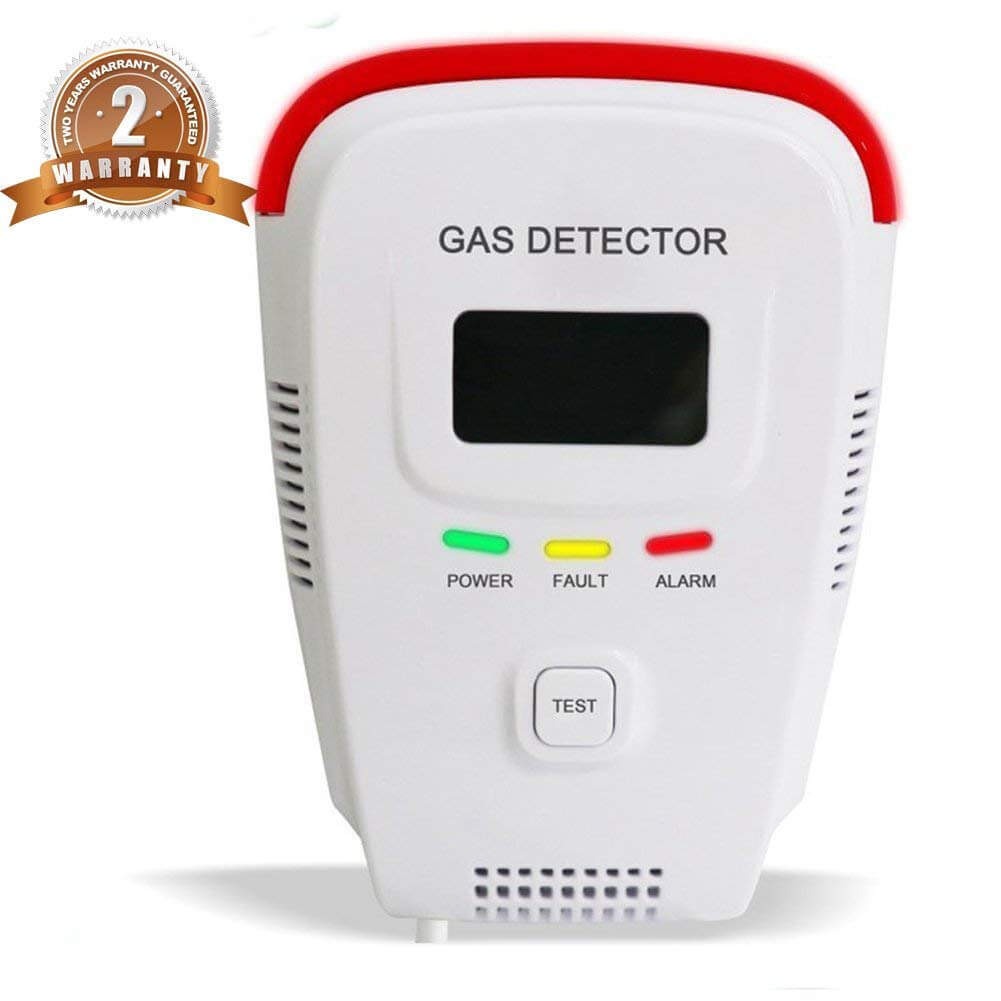 Highlighted Features
Sometimes it can be hard to sniff any gas leaks when cooking. This can be so risky, but with this gas sniffer from Youthful Naturel, you can easily detect leaks early enough before matters get out of hand.
The tool boasts of an easy to read LCD which shows gas concentrations. When leaks are detected, the device flashlight and sound alarms are automatically launched when the concentrations go past 5% LEL.
Its plug-in design makes it
easy to install
. The gas alarm
features advancedsensing technology and electronic components
for enhancing your safety. The gas sniffer
has been tested and passed the industry standards
which guarantee you safety
3. ALOPEX Natural Gas Detector
Highlighted Features
Natural gases are hard to detect. But with this Alopex gas sensor, you can detect any natural gas leakage through the automated system with
high accuracy levels
. The device
features an 80 to 85db sound alarm
which notifies you when any combustible gases like Propane, LPG, CH4, coal gas, and Butane are detected. The 9.6 ounce is
highly sensitive and bursts red flash lighting with aspeaking alarm
to alert you early enough before matters get out of hand.  Its alarm is intelligent enough and features a human voice. The device has a
capability of sensing gas concentration levels below 5%.
Any gas concentration levels are detected and displayed on its digital screen for reading. With this gas detector, you do not have to deal with high power consumption levels anymore. The device
consumes low power and has a three double-sided PCB with great anti-corrosion and anti-jamming properties
. Installing the detector is a breeze, thanks to its self-adhesive feature.
4. AideTek MASTECH MS6310 Combustible Gas Detector
Highlighted Features
In case you may be looking for a gas detector for methane gas, then this MASTECH MS6310 could be a great choice for your needs. The device is
highly sensitive and operates well at 600CAT≠v, ≠U pollution grand with elevation grade <200m.
The model features temperature coefficient of 0.1L with high accuracy levels. Users are advised to operate the detector on temperature and humidity range between 0 to 40 degrees for optimal performance. The detector is
battery powered
and does not come with cells. You will need 4 pcs of 1.5AAA batteries to operate it
5. UEi Test Instruments CD100A Combustible Gas Leak Detector
Highlighted Features
This UEi CD100A is
designed for use in both residential and small commercial purposes.
The detector
boasts of a flexible 18" goose-neck probe
which helps you
reach areas that are hard
to reach. UEi gas detector is
highly sensitive and can detect most toxic gases, combustible and non-combustible gases
which include Methane, Alcohol, Acet one, Ethylene Oxide, Ammonia, Gasoline, Benzene, Jet Fuel,  Butane, Hydrogen Sulfide, Halon, Thinners, Natural Gas, Naphtha, Propane, Refrigerants, Lacquer, and Toluene. Its work-light in sensing cover illumines the search area making it easy for you to track the leakages faster. The 4-pound gas detector features an
adjustable audio and visible tic rate
. Included in the package are a 9V alkaline battery and a detailed user manual
6. SGILE Natural Gas Detector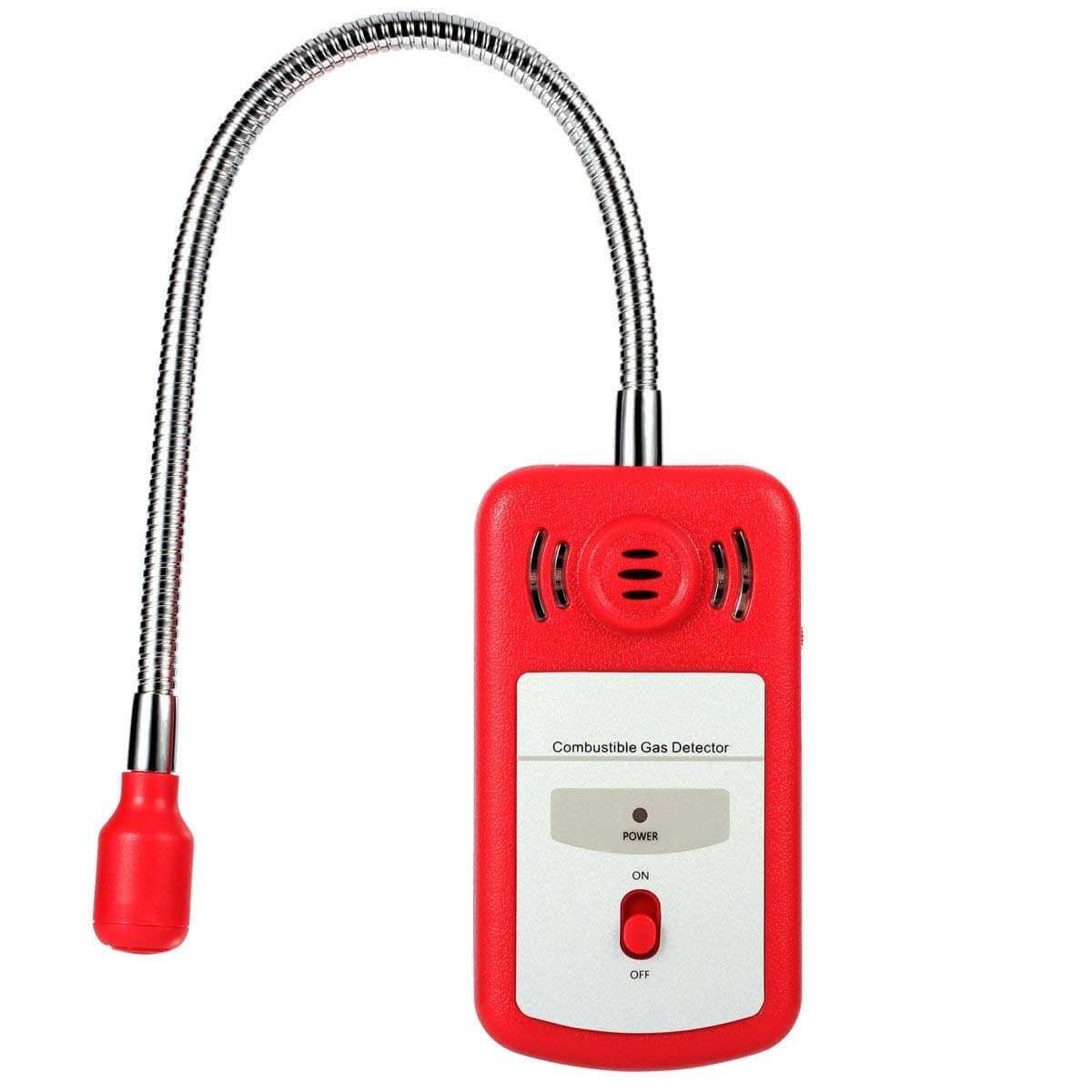 Highlighted Features
Outdoor gas leaks can be hard to detect. But with this SGILE gas detector, you can easily mitigate the risks before matters get out of hand. The device is ideal for detecting combustible and natural gas in mines, oil spills, gas appliance safety checks, and in construction projects. SGILE gas detector is
strong with a highly sensitive sensor
. The device
can sense leaks even on harsh conditions with minimal interference and drift
. Its alarm is audible enough and visual. When any leaks are detected, the alarm ticks and indicates the gas concentration levels through the LED indicator. This tool can detect flammable gases, Methane gas, natural gas, and coal with a sensitivity rate as low as 5ppm. Its
response time is instantaneous
which gives you a peace of mind.
7. ​
AGM Gas Leak Detector
Highlighted Features
Detecting industrial gas leakage can be challenge g especially when you have the wrong tool. AGM has designed a professional gas leak detector which
has a great sensor for detecting any industrial, plumbing, plant maintenance, and HVAC leakages.
The device
warms up fast
reducing the wait time. Its sensor can be adjusted to suit your preferred settings. With this detector, you do not have to rush to your nearest store to buy new batteries. The device has a
durable Li rechargeable battery
which allows you to recharge when needed. When the battery requires recharging, the tool will notify you through the low battery indicator. Its
flexible probe is convenient and allows for easy gas leak detection
even in those toughest areas. And just when you draw closer to the gas leak area the alarm frequency, and volume increases. AGM detector is
robust and can run non-stop for up to 8 hours
. For optimal performance, the device
has an overload and over-heat system protection
.  The sensor is also
ideal for use in areas where vapor, combustible gas or gas residues need to be detected.
8. General Tools PNG2000A Natural Gas Detector Pen
Highlighted Features
This gas leak detector from General tools comes when ready to use. No installation or calibration required. The detection tool
comes when pre-calibrated
giving you the freedom to start using your detector right away. General tools gas sniffer has a
combustion catalyst for detecting the presence of harmful natural gases
. Its high sensitive sensor is reliable and has the capability of sniffing and indicating the gas concentration levels through the
LED light indicator.
If portability, reliability, and performance are what you are searching in a gas sniffer, then this device is worth a try. The gas detector is
compact and lightweight
which allows you to move around with ease. That's not all; the gas sniffer also
has auto-zero out feature
which deletes the previous gas concentrations. This is a plus feature which increases the accuracy of your tool.
9. Signstek Portable AC Refrigerant Halogen Gas Leakage Detector Tester
Highlighted Features
Are you in need of a quality gas sniffer for detecting all types of halogenated refrigerants? Then this tool from Signstek could be a great choice. The detector
features one single color LED display which has 6 levels of leak alarm
. The tool has a high sensitivity sensor with instant response time. Through its
14" flexible stainless steel probe
, you can maneuver with ease in tight areas. The
battery has tri-color settings
which make the operation of the device easy. To prevent any surprises, the gas sniffer comes with an extra sensing tip for replacements. Though recommended for home use, the gas sniffer is also
ideal for use in hospitals to sense Ethylene Oxide leaks from sterilized equipment's
. Besides, you can also use the tool to sniff SF-6 on circuit breakers with high voltage, sniff halogen gases in fire extinguisher systems, detect leaks on freezing systems, air conditions and all halogenated refrigerants, or cleaning agents used in dry-cleaning purposes.
10. Amprobe GSD600 Gas Leak Detector
Highlighted Features
Amprobe GSD600 is designed to help you detect any gas leakages in closed piping systems. To ensure users get quality, Amprobe takes a step further to ensure all its products have been tested for safety, reliability, ruggedness, and accuracy and this gas sniffer is not an exception. This GSD600 series is
listed on UL
which gives you an assurance of safety which exceeds the industry standards. The gas sniffer features a
LED display panel and audible buzzer
. The tool is designed to help you maneuver even in those hard to reach places with its 17.6" flexible probe. Worried about loud alarm sound? Not anymore. This gas sniffer has a mute button for silencing your alarm. With this device, you do not have to worry about the right settings. The sniffer comes when it's pre-calibrated for improved accuracy. Included in the package are
1.5V alkaline batteries, your gas sniffer, manual and carrying case.
Things to consider when buying a gas leak detectors
Gas leaks are detrimental and as much as using a gas sniffer can help you detect any leakages, a poor quality device can cause massive destruction of property. To ensure you get the right tool for the job, we have written a detailed shopping guide on what you should be on the lookout when shopping for you gas sniffer.
Type of gas the sniffer can detect
The reasons why most people complain about gas sniffers not detecting gas leakages is because they invested in the wrong tool. All gas sniffers are not the same and are dedicated to sensing specific gases. Most manufacturers list the type of gases the detector can sense. So before even spending on a gas detector, ask yourself the type of gas you would like the device to sniff.
Application area
Different gas leak detectors are designed to be used on different applications. For commercial application, you should consider choosing a tool which can run for longer. If you need one to use for outdoor applications, you should go for a device which can withstand harsh conditions without compromising on accuracy.
Temperature range
Each gas sniffing tool is designed to work under specified temperature limits. If you stay in extremely cold or hot areas, you should take a look at the tools specified temperature limits to minimize any frustrations. Temperature range does not only apply during operation but also for storage. Storing your tool under wrong temperature range will damage it or interfere with its performance. Always be cautious and ensure all the conditions have been met.
Accuracy
Accuracy is critical. An inaccurate gas sniffer will always give you wrong results. Though it may be hard to determine the accuracy of your device by just looking at it, taking advantage of the pre-calibrated gas sniffers or reading reviews from customers who tried the product can helps have an idea of the device accuracy levels.
Features
Modern gas sniffing tools are constructed using the latest technology. However, do not assume. Different devices have varied features and your choice should be fueled by the features you are looking for.
Ease of use
Choosing a gas sniffer that is hard to use will make your life more miserable. Worse still, you find that you cannot operate it or use it because you do not have any idea how to how navigate through. A good gas detector should be user-friendly with easy to reach menus.
Power consumption
Most people pay attention much to getting a quality gas sniffer that they forget power consumption levels. This is a very critical aspect that should not be overlooked. If your device is battery operated, get to know the number of batteries needed for it to operate and how long it will take before the cells call for a replacement. For industrial application, rechargeable or longer battery life helps run the tool without any challenges. For electric gas sniffers, get to know the wattage. If you may be looking forward to reducing your power bills, you should take advantage of energy efficient sniffers.
Final Verdict
No one can predict when their gas will leak and it is not good to take chances. Do not wait until you suffer losses for you to think about buying a gas sniffer. These devices are affordable, reliable and convenient. While there are varied brands to choose from, always ensure that the device you choose is of good quality. All the best gas leak detectors we have reviewed are an excellent choice if used for the recommended applications.