Radios have been a great source of entertainment and news for many decades. Everyone has a story to tell about radio nights with friends, family or cousins, whether it be camping or just nights at home when the power is out and boredom strikes. And for the older people, they just don't want to let go of their nostalgic past - human nature. Sometimes we buy a radio to relive those moments or just simply because we need one in our day to day life.
Best Pick
The Sangean PR-D7 BK AM/FM Digital Radio is the BEST deal you will get in the market, with almost every feature you could possibly want in a radio and at a great price.
Budget Pick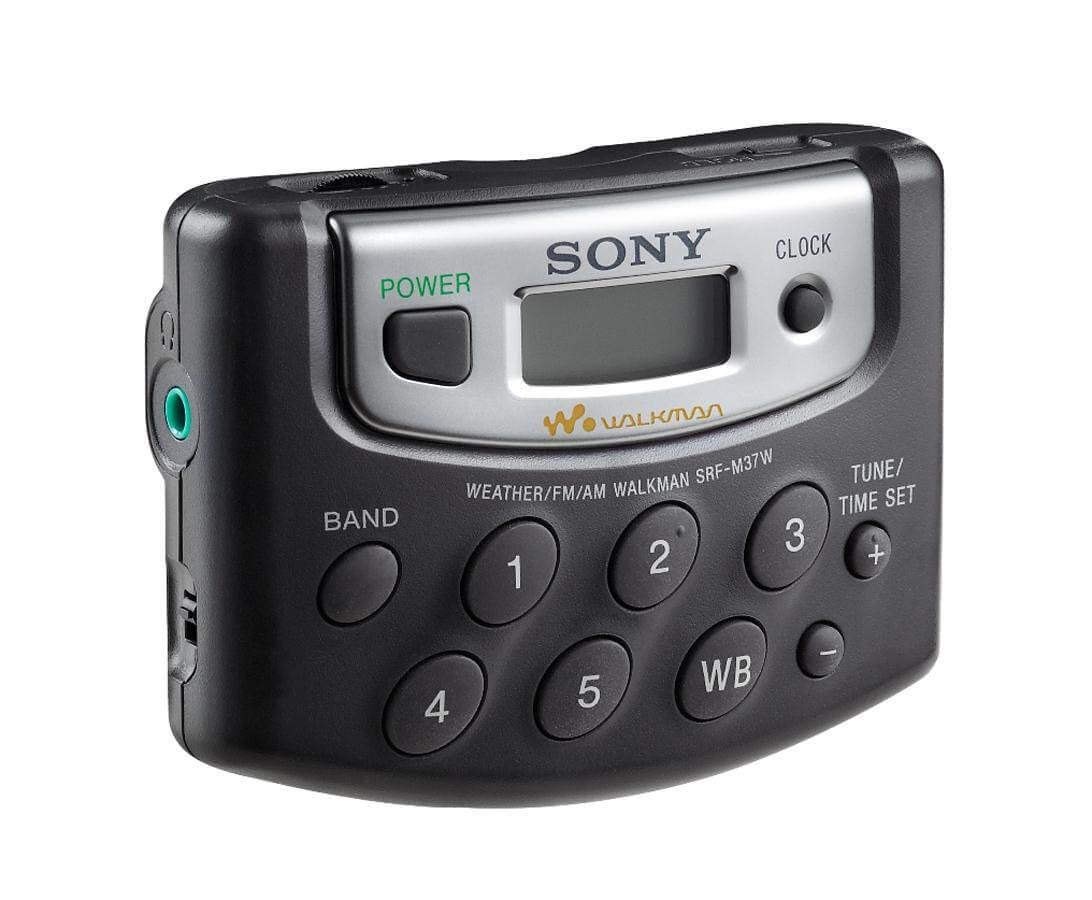 For a compact portable radio experience, Sony SRF-M37W Walkman is the
BEST portable radio
for the money.
Quick Comparison Between Top 9 Best Portable Radios
There are a wide range of FM/AM radios on the market, which is why deciding which one to buy can be difficult. It can be very challenging to find the perfect radio with all the correct features for your needs. In this list, I will discuss and review a few of the best portable radios on the market, plus give you a tour of all the features you should look for when buying a portable FM/AM radio. [table id=122 /]
1. Panasonic RF-2400 AM/FM Radio
Highlighted Features
If you are searching for an affordable, uncomplicated, and retro-styled FM/AM portable radio, then the Panasonic RF-2400 is the best deal for you. In terms of performance, one of its best features is the large speakers which provide a very well-balanced sound. The dial accuracy is also decent, with most FM stations being picked up just fine. Positioning the antenna correctly ensure that stations don't bleed into each other. Overall, it's a decent, old-fashioned radio which comes with all the necessary tools to run it as a simple, straightforward radio. Perhaps the most fitting way to describe its best selling point would be: "simplicity is the best sophistication". For me at least, the most special thing about this device is its simple design and usability. Panasonic has always prioritized user friendliness, and this product is a great example of this fact. The Panasonic RF-2400 simply comes with the basic features you would want in a radio.
2. Sangean PR-D7 BK AM/FM Radio
Highlighted Features
Portable radios are meant to be compact and this Sangean PR-D7 BK AM/FM radio is exactly that; it is an ultra-compact radio, at 8 inches long, 4.5 inches tall and 1.4 lbs approximately. For such a little radio, it is surprising how well it can pick up even the most distant stations. Another great feature of this radio is that it has a switch in the battery box for a rechargeable vs. non-rechargeable power supply. It can be powered by non-rechargeable batteries as well. Although there is no handle to carry it, it is still portable and small in size, but this is worth bearing in mind if you're looking for an ultra-portable radio. Due to lack of a handle, you may sometimes find yourself changing the channel by accidentally touching it, which isn't always a bad thing if you like to change it up! All in all, this Sangean PR-D7 BK AM/FM Radio is a reliable and easy-to-use radio. Tuning and operation is simple and the FM reception is excellent. The sound quality is rich despite the modest size of the speakers. All of these factors add up to make it one of the best portable radios on the market.
3. Sony ICFP26 Radio 
Highlighted Features
Enjoy great entertainment and sound on the go by taking advantage of this Sony AM/FM radio. The device boasts of its great sound and output of 100mW which allows you to enjoy news and entertainment from a distance. The model runs on 2AA batteries and has an innovative LED battery indicator that helps you know when your cells require replacements surprises. With this radio, you can enjoy your entertainments even in public by taking advantage of the dedicated headphones socket. Its compact size makes it a great pick for your outdoor use. Though it's inbuilt hand strap, you can easily move around with your radio. Its vertical design makes it a great pick for people who have limited space. Overall, Sony ICFP26 is a well-designed radio with great features for both indoor and outdoor use. Its output sound is great with an integrated AM/FM tuner. Whether indoors or outdoors this radio will be a great pick for your daily entertainment.
4. Horologe Radio 
Highlighted Features
Spice up your day with great entertainment from your favorite radio channels by taking advantage of this Horologe radio. Though the size may appear small the output and reception are great thanks to its advanced DSP chip and excellent output power. With the help of its LCD display, you can easily search your preferred channels faster. Through the display, you can also set alarm, track time, and the current channel frequency. The buttons are clearly indicated which makes it easy for people with poor eyesight to operate it with ease. When traveling, sometimes the signals may be interrupted which makes it hard to search your favorite channels again. But with this Horologe radio, you do not have to scratch your heard or miss to catch the news on time. Thanks to the misoperation lock which saves your favorite channel and prevents any interruptions even when traveling. Integrated to this device is a programmable sleep timer function which allows you to set your entertainment time. Once the time lapses, your radio will automatically go off creating a serene environment. Wake up to your favorite radio station by taking advantage of the radio buzzer function which enables you to set alarm. Another feature worth noting is its size which fits perfectly well inside your backpack, handbag or pocket allowing you to enjoy great entertainment anytime, anywhere. Overall Horologe radio is compact and handy with great features for your outdoor use. From misoperation feature to radio buzzer, great output power, and digital LCD display, you can easily enjoy great entertainment with excellent reception.
5. DreamSky Mini Portable FM Radio 
Highlighted Features
Dreamsky FM radio is a 2AA battery powered device which boasts of its smart features. The radio has a high reception which minimizes your channel search time regardless of whether you doing a manual search or auto search. Its LCD display illuminates to display the channel frequency a feature which makes the radio a great pick for your outdoor purposes even in places with limited light. With this device, you can now say goodbye to channel interruption even when traveling. The device features a lock button that helps prevent changes or any interruptions. When on a trip or enjoying your evening walk, you can still enjoy great entertainments by carrying your radio around. The radio is compact in size and can fit perfectly well on your pocket, backpack or handbag. In case you think you may risk losing your radio, you can take advantage of the neck strap and hang it on when traveling. Having this great device will not only enjoy great entertainment but also keep track of events. Through the
alarm clock
feature, you can easily set your wake up time or event. When on public places, you can still catch your favorite radio stations and news updates by taking advantage of the earphones feature. No more surprises on drained cells. This radio has a battery indicator which alerts you early enough before your cells die. Overall, the DreamSky FM radio is an easy to operate device which comes equipped with great features for your everyday entertainment. Better still, you can never miss an event with the radio buzzer feature. Its size and weight make it an excellent pick for outdoor or on the go entertainments purposes.
6. Sangean PR-D18BK Radio
Highlighted Features
The Sangean PR-D18BK is the perfect companion to bring to a picnic,
outdoor games
or a camping holiday because of its sturdy and rigid body. It can take on all of those bangs and scrapes from adventures or rough handling without being too much worse for wear. And the most exciting thing about this digital radio is that it comes in four different exciting colors. While the color of the product won't excite a certain group of people, this can certainly appeal to the majority. This Sangean PR-D18BK has excellent selectivity, sensitivity and the ability to pull in all those distant stations. It has a headphone jack which turns off the external speakers, allowing you to listen both publicly and privately. Although I'm sure you'll agree that radios are more fun when you can blast your favourite music from the speakers. As mentioned earlier, this radio could additionally be used as an alarm clock and also has a sleep timer. Overall, it is affordable and has an elegant, sturdy look and feel. When it comes to the sound quality then it's worth reiterating that it gives a very powerful sound for its size, as well as having a nice, well-balanced tone. Its battery lasts very long, although this depends on the individual usage.
7. SONY ICF-S10MK2 Radio
Highlighted Features
Sony Electronics have been all the rage for years now, and their radios are no exception to this. People who are used to Sony products never want to turn back to any other brand, and those using Sony products for the first time soon fall in love with them. The Sony ICF-S10MK2 radio is no exception to this either: Its inbuilt quality and speaker, station reception is flawless. Though earphone jack is mono, you don't need earphones because the speaker is excellent, with a clear and powerful sound. Since it uses only 2 AA batteries, it is also highly economical. The problem with mono earphone jack can easily be solved by using a
stereo
to mono adapter plug to convert the earphones to mono. This way you can get that stereo sound without resorting to buying another radio. You can buy the adapter along with the radio and you can easily find an adapter plug in any local radio shack. There is a built-in ferrite rod antenna for AM and an external telescoping antenna for FM use.
8. Sony SRF-S84 FM/AM Radio Walkman
Highlighted Features
The name of this product gives away a lot of its features without needing to read or write a single other word. It is indeed a super small radio which fits in the palm and comes with earphones. It's also inexpensive because it runs on just one AAA battery. There is no automatic power off system, so you need to make sure you don't leave it switched on. The on and off switch has two positions. Bear in mind that it doesn't have a speaker, so you always need to use earphones to use it. It has a belt clip, great sound quality for such a small radio, and doesn't have an external antenna. If you want a compact small/portable sized radio with a classic style, then the Sony SRFS84 is the best choice for you. It also offers a better sound experience than the plain FM sound. Plus, it can be switched into stereo with great ease. Ultimately, the Sony SRFS84 is a cheap and portable AM/FM radio which will successfully serve its user in every single way.
9. Sony SRF-M37W Walkman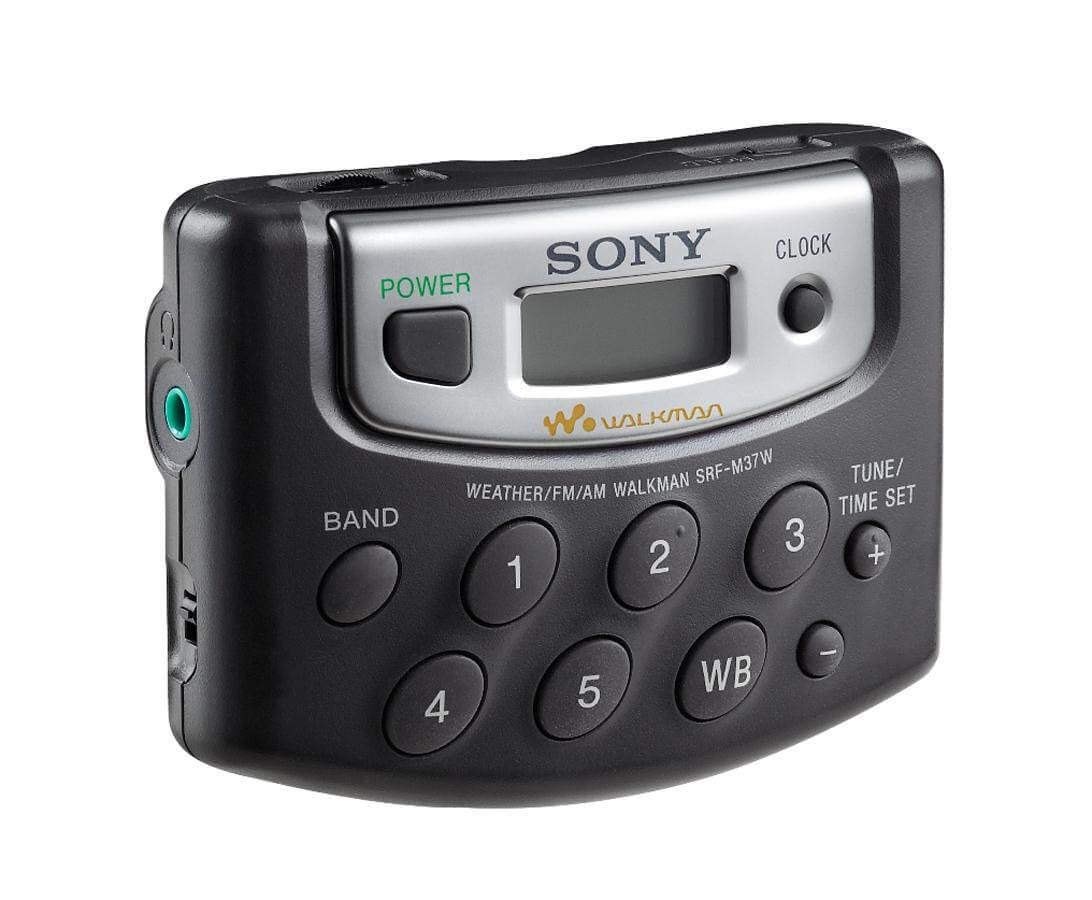 Highlighted Features
With the Sony SRF-M37W Walkman, you can work out with ease. It is a small pocket radio which comes with Sony's stereo headset (not mono), making it one of the best radios for walking and running. Many portable radios come cheap, but they also often consume 2-3 batteries per use, which ultimately becomes expensive. The Sony SRF-M37W Walkman, on the other hand, not only comes cheap but also consumes just 1 AAA battery per use. Nowadays, clocks and LCD screens are seen as standard features of portable radios, and this Sony radio is no exception. In the box, you will get a black Sony SRF-M37W Walkman with digital tuning, a belt clip, headphones and 90 days labor a one-year parts limited time warranty, plus a built-in DX switch to catch both distant and closer radio stations. You'll also get a digital clock and weather band tuning for your latest local forecasts. It also comes with a belt clip and a stereo headset which lets you listen to your stations in private, whether it's late at night, or in the gym, park, or office. It has a battery memory backup so you won't lose your presets and no minutes are lost on the clock. It has all the old fashioned analog signals with a digital display. Setting presets could not be easier with this model. For setting the preset buttons, all you need to do is go to your desired station and hold the preset button for 2-3 seconds; you will hear a beep and you're done. That's why it can make the perfect portable radio for camping too! There is also a lock button so that no buttons get pressed mistakenly. It is the ideal partner for going to the gym.
What is an AM/FM Radio?
The AM/FM radio stations are transmitted through radio waves known as electromagnetic waves. The waves are generated from an alternating current. These low-frequency electromagnetic radiations escape the wire and are transmitted into air. This is where the transmitter comes in, which transforms these signals into music or other types of audio through modulation. What differs between AM and FM is the level of modulation: AM radio stands for amplitude modulation, and FM radio stands for frequency modulation.
AM is the simplest form of radio broadcast, whereas FM is more complex. The frequency range of AM radio is (520-1710) KHz whereas FM frequency is (87-108) MHz. While AM radios can transmit across great distances, FM radios cover less than 100miles. AM is usually used for talk-show radio stations and FM radio is mostly used for music, because there is more chance of interference in AM radios than in FM radios. So basically, a portable radio is a small radio receiver that uses transistor-based circuits to transmit radio waves.
Types of Radios
Vintage
These types of radios date back to the year 1954 to the 1970s. Vintage portable radios cover a vast range of sizes, but typically vintage radios are more bulky and heavy.
Pocket
When it comes to portable radios, pocket radios are well known for being ultra compact, lightweight and easy to carry.
Walkman
Walkmans are mostly used when
exercising
, going to the gym, or doing any type of sports. It allows the user to listen to music or talk radio through headphones and on-the-go. Sometimes they also come with arm bands to make them even more easy to carry.
Digital
These devices are the modern version of vintage radio, being light and attractive. Many of them are wireless. Signal receptions are strong in digital radios.
Boombox
Boomboxes are transportable stereo systems that have an AM/FM radio panel, CD player or cassette player, and sometimes both.
Why Buy a Portable Radio When You Already Have Other Modern Devices?
Why would one need a portable radio in the 21
st
 century? This question can naturally come to mind when contemplating the vast array of modern technology. And if you buy one or get one as a gift, what can they offer you that other more advanced devices can't? Well, the answer is that no matter how modern a device may be, they will always have some form of limitations. For example, the battery life of a cell phone versus a radio. A cell phone has a very small battery life, but it is made for a different level of use. On the other hand, portable radios are made only for one purpose, and, as a result, its battery life lasts much longer than most cell phones. Furthermore, with radios you can use rechargeable batteries or extra batteries without any worry, which is not possible with cell phones or other modern devices. Since the portable radios are cord free, you can take them with you anywhere, just like cell phones. You might not be able to talk with a radio, but it will provide you with all important news if you are in a remote area, whereas cell phone might not get the signal.
Nowadays, radios come with a buzzer clock, timer, etc., so you can easily rely on them when you are traveling. Portable radios are a comfortable partner for athletes or users who go to the gym, or those who enjoy running. Since no computer memory or minimal circuitry is necessary for radio, the radio weighs less than any mp3 player. Moreover, a portable radio also comes handy in emergency situations. Some radios are made for emergency alerts which have built-in preset buttons for weather channels.
Things to Consider to Find the Best Portable Radio on the Market
Portability
All the radios discussed here are portable radios, in with different features for carrying and transportation. Some are portable enough to use in different places within the home, some are portable enough to use while you exercise, and others are more suitable for traveling, sports and walking. For example, Panasonic and Sangean radios are portable enough to transport around your home, having a handle by which it can easily be carried around the home or taken camping. For sports and exercising purpose Sony's models are perfect because they are made to be so compact that they will fit inside your pocket. They are also designed for personal use only and usually come with earphones or a headset.
LCD Screen Display
While many of the portable radios have an LCD screen, a few are fully analog without LCD. LCD screens are easy to read and also helpful when it has a backlight. In terms of easy-to-read LCD screens, the Sangean radio is top on the list.
Presets
Nowadays presets are considered as one of the important features when buying a radio or a portable radio.On the market, you will find radios with no presets as well. While some of the radio has 10-15 presets among them few are fixed for AM stations and few are fixed for FM stations and few for weather channels. Usually in Sangean models presets are present. Many models have external direct preset buttons. Analog radios don't have preset options.
Looks
Some radios are simple, retro-styled and straightforward with no extra frills; the old-fashioned radio which brings back memories and take us back to the 90s. On the other hand, if you have more modern tastes then you can go for the more modern-day radios with all the frills and a variety of colors to choose from. Then there are those with a completely unique style and those without speakers which are built purely for personal use.
AUX Input
If you want to connect external systems, you should look for a AUX input option. It enables you to connect your radio to a speaker or MP3 player. Sometimes it becomes our strongest desire to listen to a song which suit our mood, and radios simply cannot fulfil this need alone because you never know what songs a station might play. For this reason, it is great to have the option to connect other MP3-like devices to connect to the radio speakers so you can play whichever songs you choose.
Flashlight
A feature which is highly recommended for camping nights, during a power-cut, or just nights in general. So, if you think you're likely to need a flashlight on a regular basis then it would be wise to seek out this feature in your radio.
Dimension
The dimensions and general size of the radio is always important to consider before buying - Do you want a radio for your house, vehicle, or one that's small enough to carry around with you in your pocket or hand? Different models come in various size and handling styles, so be sure to pay attention to the dimensions of the radio as well as the carrying techniques before buying.
Antenna
Antennas may not be useful for the users who live in or near the town or near to radio stations. However, users who need to travel long distances or who work or live somewhere far from the town will require a long, telescopic antenna. This allows the radio to catch even the most distant channels and even when there is crowd of signals. This is a rather important feature to consider when looking for a radio.
Emergency Warning Alert
This is another important feature to consider. If there is any possibility that your main source of weather news or emergency information could let you down, then it's a great idea to look for this feature in your radio as a backup. Radios which offer specific alert message encoding allow the user to specify specific areas for emergency warnings. In this way, the user will be notified whenever there are disaster warnings for those specific areas.
Connecting Station with MP3
Perhaps the best feature of all is that some portable radios on the market are capable of connecting the mp3 with the radio. As a result, the radio can act as an external speaker so that you can set your headphones or earphones aside for a while. You should look for portable radios with an MP3 docking station or USB port for connecting to digital music players.
Speaker
We don't usually listen to the radio on earphones even when we have the option; most of the time you get the best experience by using the speakers, and that is why the quality of the speakers is one of the most important features in a radio.
Panasonic has particularly large speakers for a portable radio. Its sound is excellent, and its large speakers are the first thing to stand out when you look at it. While Sangean radios do not have a speaker as large as the Panasonic's, it is still very powerful.  Sangean provides powerful sound when it comes to its speakers, and the tone is very well balanced too.
Sony and its speakers are not large because it is made to be a compact device; it is for 100% personal use and to be kept in a jacket or shirt pocket. Thus, the speaker doesn't need to be as powerful, but the quality is still good for personal use. Obviously, all portable radios are for personal use, but the Panasonic and Sangean also has a large and a moderately large speaker respectively. On the other hand, the two Sony products are compact in size, the speakers are small and as a result, its sound is not loud as the Panasonic and Sangean. Sony Walkmans make great emergency radios, which can be used by sports fanatics and for weather emergencies, and have a good sound quality, but only with the headset provided. There is no speaker at all on this radio.
Battery Life
The battery life very much depends on the usage, but it is also dependant on the specific features the device has. The models that have large speakers will obviously consume more battery. They require 4 AAAs, 6 AAs, and 4 AAs respectively. It goes without saying that the models which have both speakers and an LCD screen will need more battery. Models with no LCD screen and small speakers, or with an option of using earphones require less battery, and, as a result, are more budget friendly. Speaker uses more battery than using earphones. However, you are required to wear a headset at all times when using radios with no speakers.
Budget
Whatever the price of the radio may be, battery budget and their usage should also be considered before buying a radio or any device which runs on batteries. Models which requires 4 AAAs batteries ultimately become expensive, even when the device itself costs less than others. If the model doesn't have an LCD screen but has a big speaker, it will use a lot of battery, and this is the reason why battery budget is high for some models. The requirement of 4-6 AAAs or AAs is self-explanatory because those models have both speakers and an LCD screen. Thus, they require more battery. With no LCD screen and a small speaker also with an option of using an earphone it requires less battery and budget friendly.
Earphones
Some models can only be used with earphones, while some have the option to use both speakers and earphone. Usually, on the models with both the features, the speakers turn off once the headset is plugged in. Some of the models on the market have a mono headphone jack, for which you have to buy an external adapter to make it stereo. There are also many radios which don't have speakers, meaning you have to rely on earphones only.
Warranty
You should always pay attention to warranties whether you are buying an expensive radio or an inexpensive one. Electronic devices often fail with time; this is normal. This is why it is always better to look for the models that are covered by a warranty.
Some Essential Tips
Now you know all the features and flaws that can come with a radio. You will now know which kinds will be good for battery life, which are good for sound quality, which one will lack in sound quality, which one will consume more battery, which one is better for using at home and which are best for going to the gym. There are so many reasons and purposes for buying a radio. You might be buying a retro-styled radio for your grandpa who still loves that old style, or maybe another friend who's into the more modern style. Radios can make a perfect gift for those friends who love or collect radios. Or you can treat yourself to one and enjoy listening to it as you exercise at the gym, go for a walk, or just go about your daily activities.
By purpose what I mean is that you must choose the correct radio out of all of those on the market. Sometimes you have to consider the budget, and sometimes you just want the best quality. While for some presets are important since they only listen to particular channels, others are more concerned with battery life. But how much money you will spend and what features you are going to get for that money is the main concern.
Why buy a radio for almost $50 when you could get one for $30 with almost all the qualities except the LCD screen? Why would you buy a radio with large speakers for more money and with a greater battery consumption if you only need it for your own personal use? So, before buying a radio, you should consider your own individual wants and needs before considering the price and other features. As soon as you find your purpose, the features will automatically fit in. No need to buy a radio which uses more than 4 AAA or AA batteries if you want it for yourself. If you want it for your home, then you will need one with speakers. And if you live far away from towns or radio stations, remember to look for one with an antenna so it can receive signals clearly.
Purpose
First of all, you have to determine why you need the radio. There are many radios on the market. You should check the best-reviewed radios and choose among those whichever best suit your purpose.
Features
Read the features one by one try to understand their terms and what they are trying to say when you are reading bullet point features. You might not be used to dealing with these kinds of terms, so make an effort to read them carefully before you make the purchase.
Volume of the Speakers
The volume of the speakers is always important. If you enjoy listening to the radio with earphones, then definitely a radio with speakers; whether you go for large or small speakers is up to you. Since there are so many options on the market, why should you suffer by buying the wrong one?
Preset Options
You may want to buy the radio for emergencies or those times when you can't use any other device. So, if you waste your time searching through all the channels to reach your desired channel, then your purpose isn't being served correctly. This is why it's always a good idea to become familiar with your radio and set up presets when available.
Reviews
Before buying a product, you should always read the comments and reviews. People who have already used the product obviously have the best idea of how well it works or if there are any potential problems you might face with it, so be sure to make yourself aware of these aspects before you buy.
Final Verdict
Since you are searching for reviews of radios, you're either looking for a new one or you've never had one before. Either way, you need to choose the best one for yourself and your needs. Every one of the products mentioned and reviewed above are unique in their own way; they are all wonderful radios in their own right and would make a great purchase. However, you have to choose from them wisely depending on what exactly you want from your radio. For that, all that is required is to read the features, understand them, and have a good look at the reviews. At the end of the day, it is you who is buying it. This article is just here to aid you in the process. Now you can decide which is the best portable radio to buy within your budget. Relive the old days and that nostalgic experience of using a radio whilst enjoying the new selection of modern features at the same time.
Featured Image Legacy
https://wirevibes.com/wp-content/uploads/2018/10/Best-Portable-Radios.png